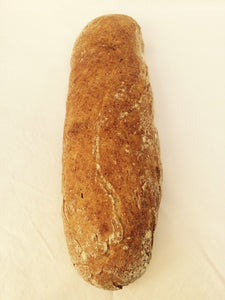 Ciabatta
AVAILABLE AS A LOAF OR A 4-PACK OF BUNS
These loaves are made with a 12-14 hr poolish preferment makes up 30% of the final dough. The next day the final dough is mixed and receives 1-2 hrs of bulk fermentation followed by cold fermentation. It's then shaped and dusted with white rice flour and proofed for another hour before going in the oven.

We adapted the Team USA Ciabatta formula (courtesy of the Bread Bakers Guild) and the result of this technique is a deliciously creamy flavor, a soft delicate interior and a lightly crisped crust. Makes great sandwiches or burger buns! 
Ingredients: Filtered water, brown rice flour*, tapioca flour, millet flour*, sorghum flour*, potato starch/flour, flax seed*, extra virgin olive oil*, bakers yeast, non-gmo xanthan gum, guar gum, sea salt, cane sugar*.
Vegan. *Indicates ORGANIC ingredients.